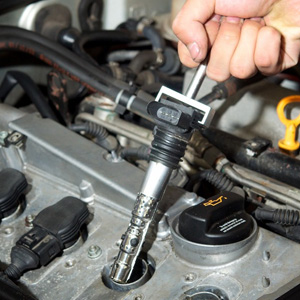 Tune Ups Naples Florida GET YOUR CAR SERVICED WITH TUNE-UPS IN NAPLES, FL
Every car needs a tune-up. As cars age, their parts can become faulty and stop working. With a tune-up, you won't have a surprise car repair that costs much more than you were thinking. Collier Tire can maintain and service your car with a thorough tune-up that will help you know what potential problem areas are.
Why are tune-ups important for my vehicle?
Normal vehicle usage causes various parts of your engine to lose their efficiency because of under-the-hood temperature and vibration.
 Regular tune-ups help maintain vehicle safety and performance by ensuring that worn or faulty parts are replaced promptly
Tune-ups can help you achieve maximum fuel efficiency and vehicle performance
When to get a tune-up
Tune-ups are an important part of regular vehicle maintenance and should be scheduled annually. You should schedule a tune-up sooner if you notice any of the following:
Your gas mileage is decreasing
You experience a loss of power or torque
Your engine sounds like it's running rough or stalls out at a stop
You hear knocking or pinging sounds when accelerating or after the ignition is turned off
Your check engine light remains on after your initial start
Here is what we look at in a tune-up:
Entire engine — Looking at the entire engine and its parts will allow us to know what things are becoming worn out.
Fuel filter — The fuel filter is always working when you drive the car, so checking this is key. The fuel filter works hard to keep pollution out of the injectors, so replacing it about every two years is about right.
Battery — Instead of waiting for the day when the battery needs to be replaced, be proactive and have a technician check it. That way, you'll know how your battery is doing and when you should replace it.
Air filter — The air filter works to protect your engine from pollution, so replacing it every year is about right.
Spark plugs — Spark plugs help to keep your car going and need to be checked on periodically.
Belts — Both the timing and the engine belt need to be maintained and checked on to avoid significant belt damage.
Tires — Tire treads eventually wear down. Checking on them using the penny test and letting a technician examine them in a tune-up will keep you aware of their progress.
Brakes — Making sure that brakes are in good shape will ensure that you won't be in a surprise accident if your brakes give out.
We check various other car components during a tune-up, but these are among the most important. Come into Collier Tire for your tune-up in Naples, FL
Tune Ups Naples Florida